Dunes Real Estate is a top real estate brokerage in the Hilton Head MLS and the number one top producer in Palmetto Dunes. One of our offices is located at the gate of Palmetto Dunes at 6 Queens Folly Road, another is in Shelter Cove and the third location is at the gate of Moss Creek which is another neighborhood where we rank top is sales.
Palmetto Dunes Homes For Sale
Palmetto Dunes Villas For Sale
This year to date Dunes Real Estate has had approximately 112 closed transactions with a total volume of $58,985,750. This volume is over $20,000,000 higher than the company ranked #2 and we lead sales in all sub categories too. The sub categories include Leamington, Palmetto Dunes Homes, Palmetto Dunes Villas and Shelter Cove Villas. Below is an illustration of Dunes Real Estate Sales and the four following companies. Contact me for a breakdown of all the sub areas in Palmetto Dunes if you are interested in more detail or with any questions about other areas too.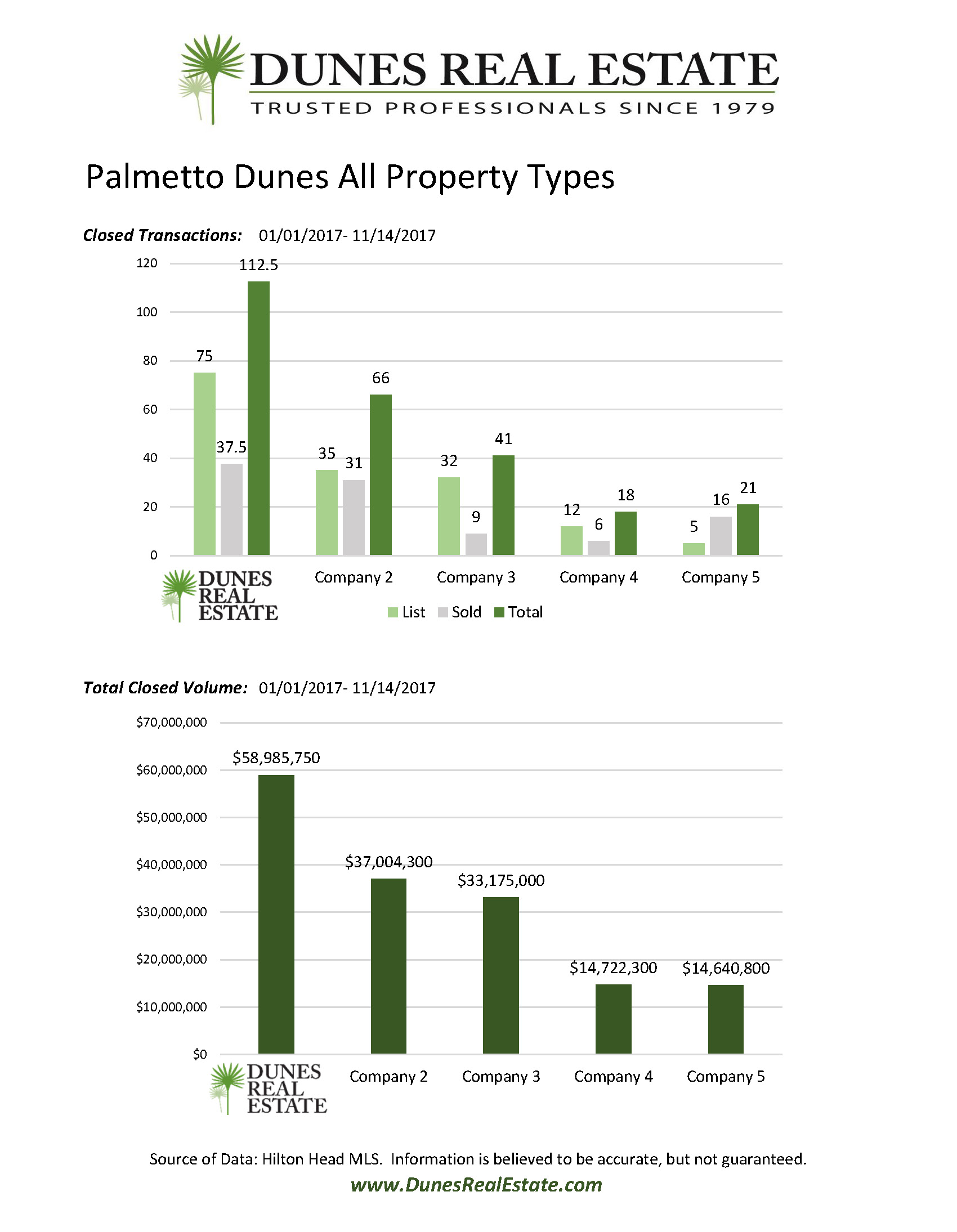 With nearly 40% higher production in total sales volume and transactions, why would you list your Palmetto Dunes Property with any other company? Dunes Real Estate has been in its current location since 1979 and has been the dominant sales force throughout that time. Not only is Dunes Real Estate the top real estate sales company in Palmetto Dunes but we are a full service brokerage that provides outstanding marketing.
When you list a home or villa you will have benefit of a 3D MatterPort Virtual Tour that engages buyers at a much higher level than the typical rotation of still photography looped to music. Vicki and I have had 2 listings under contract prior to the buyer physically visiting the listings. Also all of our listings are photographed by a licensed and insured local photographer. Dunes Real Estate provides in-house professional grade printing for all of our flyers and mailings. We also have a Circle Pix Lead Capture system that encourages buyers to reach out for more information. Also our company is a member of the largest global real estate network called Leading Real Estate Companies of the World and Luxury Portfolio International.
All of these great tools are partnered with an outstanding administrative staff that assists us in all facets of our business so we can dedicate our time to our clients. We have dedicated staff members to facilitate everything from Multiple Listing input and compliance, marketing design, print materials, closing coordination and business development needs all so we can better serve our clients.
Vicki and I also incorporate our own marketing efforts like mailing our new listings to local and out of the area potential buyers, keep continued contact with over 2,500 real estate agents local and in other markets as well as over 2,500 potential buyers, blog about our listings and maintain our own web presence. We always utilize the allowable 50 photos in the MLS to help attract buyers for our listings. This also helps our listings rank higher on real estate website and organic searches. We are both careful to keep close attention to our showing schedules to limit the inconveniences that come with having your home or villa listed.
We are very considerate of our clients and potential client's time so we make ourselves available to meet at your convenience. If you are interested in what your Palmetto Dunes Home is Worth in Today's Market contact us for a Free No Obligation Market analysis. We promise you will feel that our time together was well spent.